Bay County Sheriff's Office Search & Rescue will be holding our annual K9 Training seminar Feb 25– Feb 28, 2021.

ABOUT THIS EVENT:

Classes for Trailing, Human Remains Detection & Area Search
IMPORTANT: This seminar is designed for started/established teams. Attendees should have some experience with SAR and have done some foundation work with their dogs.
SCHDEDULED CLASSES:
HRD LAND Instructors: Jan Scofield, Greg Cole, Fred Mendiola, Heather Suedkamp and Heidy Drawdy
HRD WATER Instructor: Lisa Higgins
Area Search Instructors: Sharon E. Sansom and Mike Rhodes
Trailing Instructors – Jason Klingensmith and Morgan Weller
*** REGISTRATION CLOSED: Feb 12, 2021
*** COVID-19 NOTICE –
It is the responsibility of every attendee to take proper precautions (distancing, masks, etc.) in light of the COVID-19 threat. Individuals with a compromised immune system SHOULD NOT attend this seminar. BCSOSAR reserves the right to cancel this event if it is determined that COVID-19 activity has increased to the extent that an unreasonable threat will be posed to attendees, instructors and assistants. BCSOSAR further reserves the right to deny participation to any attendee showing signs of possible COVID-19 infection.
***
SEMINAR NEWS AND UPDATES:
======
REMINDER:  All seminar attendees need to complete the online background check form.
The link to this form would have been sent to you from the email address of k9seminar@baysosar.org and with the subject of:
BCSO SAR K9 Seminar Information – YOUR ACTION REQUIRED

If this email is not in your inbox, please check your spam folder.   If you cannot locate the email then please contact k9seminar@baysosar.org and we'll send it to you manually.  Your email should include your name AND be sent from the email address you used to register for the seminar.
For those that completed the form and want to check on the status of the check, just revisit the private link that was sent to you and scroll down to this section: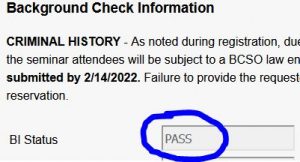 If you see PASS, you are all set! The other statuses:
NO – nothing has been submitted
PENDING – background info is currently being processed
ENTERED – your info has been received and waiting to be processed
Open Seminar Class Spots:
6 slots available for Area Search / Live find
All others are sold out
SOLD OUT:
Class: HRD LAND – Scofield/Drawdy/Arrington
Class: HRD LAND – Mendiola
Class: HRD LAND – Cole/Rodrigus
At the time of this post:
5 slots available for Area Search / Live find
3 slots available for HRD WATER
1 slot left for Tracking and Trailing.
The 2022 SAR K9 Seminar registration opened on 10/30 and slots have filled up quickly.
SOLD OUT:
Class: HRD LAND – Scofield/Drawdy/Arrington
Class: HRD LAND – Mendiola
======