REMINDER:  All seminar attendees need to complete the online background check form.
The link to this form would have been sent to you from the email address of k9seminar@baysosar.org and with the subject of:
BCSO SAR K9 Seminar Information – YOUR ACTION REQUIRED

If this email is not in your inbox, please check your spam folder.   If you cannot locate the email then please contact k9seminar@baysosar.org and we'll send it to you manually.  Your email should include your name AND be sent from the email address you used to register for the seminar.
For those that completed the form and want to check on the status of the check, just revisit the private link that was sent to you and scroll down to this section: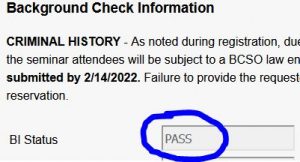 If you see PASS, you are all set! The other statuses:
NO – nothing has been submitted
PENDING – background info is currently being processed
ENTERED – your info has been received and waiting to be processed