Following information is for BCSO SAR managers regarding the steps to send an Alert on the SAR App.   The pictures are screen shots to show you what you will see on your phone.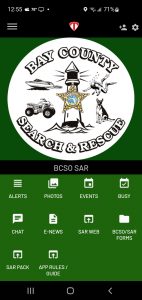 Click on ALERTS and then on the 3 dots in the upper right corner

Then select the "New" option

Details for the Alert/Call Out can then be entered.  Note that the location feature will do a lookup through Google and insert a map offering clickable directions for responding members

It is important that you select the proper "Visibility".  This determines who the Alert will be visible and sent to.
For this to go to the team, select "SAR Member"

The Alert is made active/sent when you click on "Create"

Example of an alert made to a test group:

The Alert can be edited by clicking on the 3 dots in the upper right corner of the Alert.