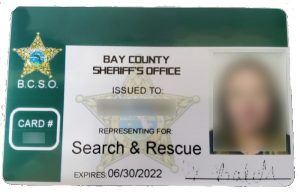 ID CARDS SHOULD BE OBTAINED ONLY AFTER COMPLETING THE FINGERPRINTING AND CJIS REQUIREMENTS.

Once that is completed, your name will be provided to BCSO personnel as being authorized to obtain an ID.   After being authorized, please call to make an appointment for the ID.
Contact information:
Laurie Rhodes, Personnel Specialist
Bay County Sheriff's Office
850-248-2073 (direct desk line)
The ID is the property of the Bay County Sheriff's Office (BCSO) and will be immediately returned to the BCSO should you no longer be affiliated with BCSO Search and Rescue or at the request of a BCSO/Search and Rescue supervisor. You must inform a Search and Rescue supervisor should your ID be lost or stolen. Unauthorized use of a BCSO/Search and Rescue ID is strictly prohibited and may result in prosecution and/or dismissal from BCSO/Search and Rescue.
NOTE: Your ID will also allow access back into Bay County following emergencies like hurricanes.  Your BCSO Search and Rescue ID should NEVER be used to try to obtain special privileges (i.e. avoid a traffic ticket, etc.).