SAR Mirror Hanger
Proposal was made that we obtain parking ID hangs for member vehicle identification during operations and training.
Original idea came from this: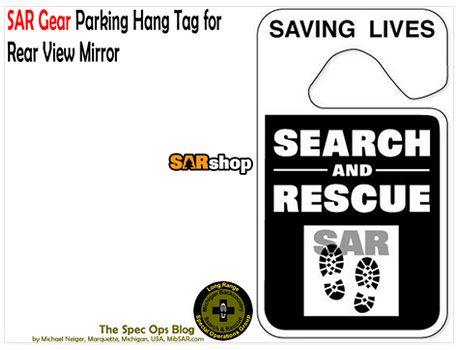 Size: 4-3/4″ x 2-3/4″       CLICK FOR SITE LINK
Pros:
– Professional looking
– Durable PVC construction
– Reflective and high visibility
Cons:
– Cost is too high at $8 per hanger tag
ALTERNATIVE SOURCES:
#1

Melissa Frye found another site that can produce them for about $4 each:
www.myparkingpermit.com/parking-hang-tags

We would send in the artwork and as shown below cost is reduced based on quantity ordered.
Cost for reflective/premium one sided tag:



Cost for non-reflective/economy one sided tag:


Pros:
– Same as original idea but 1/2 the price
– We can modify the design/layout making it unique to our organization
– Free shipping
Cons:
– minimum 50 purchase so initial outlay of $150+
#2

Bill Hyde checked with another source (family member in CT) who produces this type of item (plaques, sports accessories, etc.).  To produce a copy of the original design,  a quoted cost of $4.45 each was provided.
Pros:
– Price about 1/2 of the original
– Can modify design as needed
– minimum of 15 units per order so lower initial outlay (est. $66)
Cons:
– NOT reflective
– Requires 2 week lead time
– Additional shipping costs (from CT)
#3

Bill also looked into an alternative type hanger that we can use to create locally/in-house a SAR mirror hanger.Clear hanger holders like the one below are available at around $0.72 each (based on ordering 50 and calculating any tax and shipping fees).  No minimum order quantity but this company does charge a flat rate of $3.49 for shipping.  CLICK HERE FOR WEBSITE

It will fit a laminated card sized to

3 1/8″ High X 2 3/4″ Wide

Example from inside car:

Example of display looking at front windshield:

We can reproduce the original SAR hanger graphic and laminate for inserting into the clear hanger.   Additionally we can modify as needed.   Examples:

Additional costs would involve obtaining paper stock and 5 mil laminate to seal the printed cards.  We have access to a laminating machine so no need for that investment.   Estimated cost is around $1.14 per hanger for an initial run of 50. Ink was not priced in.
Price breakdown:
$35.62 Order 50 hangers
7.98 4X6 5 mil laminate sheets, 2 packs of 25 @ 3.99 each
13.69  Heavy weight card stock
======
$57.29  –  produce 50 hangers, estimated cost each: $1.14 *
* note that laminate and card stock may be available at lower
price and reduce the price per item accordingly
Pros:
– Cost is significantly lower
– Design to our specs
– Easy/inexpensive to change out the actual displayed card as needed
Cons:
– NOT reflective
– A little additional work on our end