NOTE: THIS IS NOT A MEMBERSHIP APPLICATION.
CLICK HERE FOR INFORMATION ON HOW TO JOIN BCSO/SAR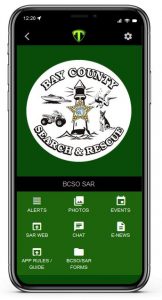 The BCSO/SAR MEMBER PHONE APP works with your cell phone and is a required item for ALL team members.   It runs off software called "Team App",  costs nothing to obtain and is available for Android and Apple cell phones.  The system can also be viewed as a web page.
The BCSSO/SAR APP provides the following main services:
"Push" Notification of team call outs and alerts
Event notifications
Links to forms and other information
Chat system for members to communicate
IMPORTANT!!!:  the One Call Now phone system is being phased out as our main way to contact team members and is being replaced with this app. 
DIRECT DOWNLOAD LINKS:
2. After Team App is installed on your device, you can search to join BCSO SAR.  Make a request to join the "team's app" as SAR Member.  Our K-9 team will also be listed.  You need to select the one with the green border (it should be the first one listed).
3. When you submit the request to join all we really need is your phone number on file to verify.  If may also ask you to type something in a text box.  Wait for your account to be verified/approved (done by a real human on our end so it is not immediate!).  Non BCSO/SAR members will not be approved.
---
*NOTE:  Most of the system can also be viewed through a web browser.  Click on the below Team App box and then click on the +Join box near the top.